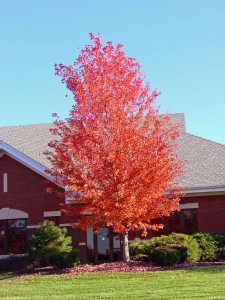 Red Maple "The Native"
The native Red Maple is very diverse and has many cultivars because of this multiplicity in its gene which allows it to ranges from Canada through the southern states. From east and west, it runs from the plans to the coast. The diversities of this plant can be seen as it grows from the low swamps to the rocky outcrops of Missouri.
Because of the range of habitat of this tree, it can grow in the moist area of the yard as well as dryer sites. While growing in dryer areas however the roots tend to come to the surface and can give rise to some problems as the tree matures.
Red maples bloom early in the spring before the leaves sometimes present themselves, as early as February, in Missouri. This early bloom gives the bees a source of pollen and nectar early in the season so when they become active there is a food source for them. The samara seeds are called helicopters they are produced in late spring. The tree can have both male and female flowers on the tree or both. This attribute is tremendous as it gives rise to some seedless cultivars.
The fall color can be yellow-red to dark red this is another characteristic that been selected out in many cultivars this gives rise to so great fall color show. The Red Maple will mature in seventy-five to eighty years an can live up to one hundred years.
The growth of this tree is faster than sugar maples slower than silver maples. It is listed as a soft maple due to growth rate but it was used furniture in the early pioneer days.
Native Red Maples are used to making a very sweet maple sugar. It can grow to a height of fifty-plus feet. However, its width can vary if the tree is fifty feet tall the width can be from ten to fifty feet wide.
As a native, it is great to plant in certain areas but around urban communities, it is better to plant one of the fifty-plus cultivars for great fall color. In the late 1800s Acer rubrum was crossed with Acer saccharinum giving rise to what is called the Freemanii maples which are half silver and half red maple, today there are about a dozen in cultivation in the United States.
As for the cultivars selected from mutations and or selections of Acer rubrum, there are about forty plus varieties. Any of these are an excellent selection for urban use depending on location. I will add later on the many red maple varieties.
©Ken Wilson Gardening Whisperer 2015
This entry was posted in Old and True Varieties, Uncategorized and tagged Maples, Native, native plants. on January 22, 2015, by Ken Wilson. Edit