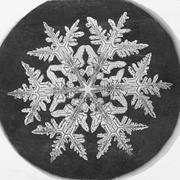 The man to become known as "snowflake" was born on February 9, 1865, in a small town in Vermont called Jericho. At this time, the Union was making many changes, as the Civil War had ended the country was beginning to switch to a peaceful nation. Not only was the country beginning to expand west but enlarging the technology used in war for peacetime use. New fields of science were beginning to arise, of which this man became keenly interested. Meteorology and water crystals or snow which Vermont had plenty of was of great curiosity.
He started to sketch the many snowflakes however it was difficult as they were complex and their life span as short as they are fleeting and they either melted or sublimated into the air. At the age of ten (10) his mother gave him a microscope which helped but it was only after he adds a bellow camera that could he capture the beauty of snowflakes. He captured his first picture on a glass plate on January 15, 1885. As photography was a new field expanded by the Civil War, at this time pictures were taken on glass plates. His knowledge was with the leading edge to only Photography but Meteorology.
In his lifetime he photographed some 5,000 images as he produced several books his reputation became more known. He once said that no two snowflakes were alike. His collection of images is located is in the Historical Society in his hometown of Jericho Vermont. A portion of his glass plates is in the Buffalo Museum of science.
On December 23, 1931, he died of pneumonia after walking six miles home in the snow. In his life, he worked with both George Henry Perkins and William J. Humphreys of the Natural history and the Weather Bureau. They produced and published a book with about 2,000 of his pictures. This book today is the baseline for images of snowflakes.
Who was this man known as Mister Snowflake, he was Wilson A. Bentley, (1865 – 1931) a man known by his peers as a man ahead of his time.
© KEN WILSON
WWW.gardeningwhisperer.com