100 Easy To Grow Native Plants
For American Gardens In Temperate Zones
By
Lorraine Johnson
 100 Easy To Grow Native Plants, For American Gardens in Temperate Zones. This book is reviewed by Kenneth Wilson "The Gardening Whisperer".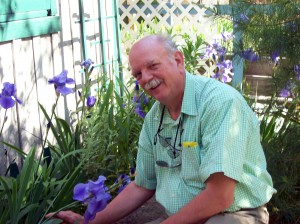 This review is prepared to be on www.Gadeneningwhisperer.com  Lorraine is a writer and gardener, she has written over 23 books mostly on gardening in the urban settings and other topics.  On her posts in 'The City Farmer"; http://www.cityfarmer.info/2010/05/01/lorraine-johnsons-city-farmer-adventures-in-urban-food-growing-coming-on-may-22-2010/, she writes on gardening and topics that are important for a city garden. The book is published by; 'A Firefly Books copyright© 2009.'
The title of this book wants to make you think that there are 100 plants for native gardening. Then in the introduction, she states that there are actually 101 plants on her lists.  After reading the book twice I came to the conclusion that if you add in all the related species and companion plants there are many more plants discussed here.  The short snippets are great for someone wanting to grow native plants.
I was naive to think I could pick up a book and have 100 native plants that I could grow in my back yard. Within America and Canada, there are volumes of plant possibilities each with its own growing climate.  In the back of the book, there are listed plants for specific conditions it is a quick reference as to what plants grow best in what areas.  There is also a list of native plant nurseries listed in each region.
I would recommend reading this book as a starter informational book on native plants; it does not go into great depth on any plant or climate. After looking up references on Larraine Johnson she has some great information on urban gardening. I am going to look up some of her other books.
©Ken Wilson Gardening Whisperer 2015
This entry was posted in Book Reviews and tagged Gardening Books, native plants. on July 19, 2015, by Ken Wilson. Edit