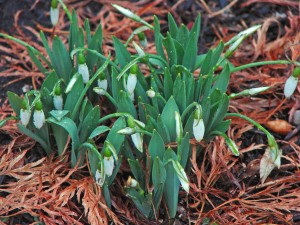 Snow Drops
On a dull cloud covered rainy winter day I noticed that the Snowdrops 'Galanthus nivalis' that I planted 20 years ago were coming up and starting to bloom. This is in contrast to last year as they waited until it was February before they poked the little heads out of the ground to bloom and announcing that spring was coming.
Snowdrops are one of the first spring bulbs that flower followed by Grape Hyacinths and Crocus. In reality, there are twenty types of snowdrops only three are in commercial production.   The standard is 'Galanthus nivalis' but if you can find 'G. nivalis Flore plena' you will have a great show of white spring flowers. Their cold requirement is 15 -18 hours of temperatures below 45 degrees, this why they bloom early.  They can even bloom under the snow, however in extreme cold with no snow cover the blooms seem to give up the ghost.
Planting of Snowdrops is done in the fall, which is when they are harvested, then shipped to a location near you. Snowdrops are hard to find in the fall in most garden stores. They do not count for high dollars in the store but add great beauty in the early spring. The best effort to find a retail mail-order garden catalog that sells many types of fall bulbs. If you are looking for one let me know I have several.
Frequently Snow Drops like several other early winter spring flowers are left out of landscape design because their bloom time is before people are active in the yards. If you find a garden location as you travel in the winter going in and out of your house that is the best place because you will be able to enjoy their beauty. Planted around trees is another great location.  In some areas when planted in the grass as they have gone before lawn mowing has commenced. The bulbs are small and when planted they should be groups of five to six they will make larger clumps over the years and give that early hello that spring is coming.
©Ken Wilson & Gardening Whisperer 2015