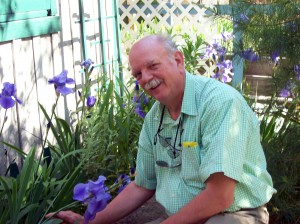 Patience
I believe the most significant value that was passed on to me by my Grandfather and my mother was patience. This virtue is but only one of the many lessons that have helped me in so many ways in life.  In this rush, rush life we live in sometimes it pays off to slow down and let problems resolve themselves. In gardening waiting for the anticipated garden to grow or the lovely rose to bloom, patients are a must as Mother Nature has her own schedule and you cannot rush her in any way.
This spring has been a great example of being patient, the extremely cold and long winter made many warm weather plants late in appearing in our gardens. Crepe Myrtles, Milkweeds, Hibiscus, are some plants that need some warm weather to get them to show themselves. I have told many eager gardeners to wait before the cut-down and pull out the dead in their Crape Myrtles that in time will show they still may be alive.
Over this last weekend, two people have told me that as they were approaching their Crepe Myrtles with their removal equipment only to find green was coming from the limbs and sprouting up from the bottom of the plant. So, patients have spared them much loved Southern Crepe Myrtles, from being removed and something else put in the place with less summer beauty.
Normally cleaning and removing dead limbs are usually done in early spring when you first get into the garden but on some warm weather items, waiting is best. Gardening is not a fast or hurried up adventure, it moves at its own pace and patients bring to your immense rewards. Working every day in your yard or garden can bring pleasure to everyone that comes by your garden. It is one of those pass times that is well worth passing on to the next generations.