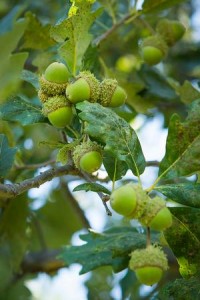 'Bucks' Unlimited Oak
In an age of small dominative plants that do not drop anything on to the manicured lawn of urban America, it is refreshing to see a tree that produces large amounts of acorns being triumphed is astonishing. However, this fast-growing Swamp White Oak was selected not for the urban homeowner but rather for the wildlife and to be used in areas where the is deer and turkey populations abound. The attributes of this new and great tree are earlier flowering and fruiting large number of acorns thus giving wildlife, turkey and deer and waterfowl a good diet of natural food, making this an excellent tree to put into your food plot for the wildlife.
This unique and great find was made by the late Bill Yoder of the Missouri Department of Conservation State nursery. Production and sale of this tree are with forest keeling nursery. It was also found by John Burk, Wildlife Biologist that deer would move past Northern White oak to dine on Swamp White Oak, once again making this a superior tree for attracting deer.
Known as 'Bucks' Unlimited Oak, this natural selection offers consistent annual yields with heavy, early production. This beautiful, long-lived oak species will develop a stately profile and live as long as 300 years on a variety of sites from upland forests to floodplains. And, while the main claim to fame for Bucks' Unlimited Oak is its wildlife-attracting mast, this tree will also produce top-quality timber. This new Find Buck's Unlimited Oak is a natural selection that will be a great addition to the vast line of Oaks.
Swamp White oaks are a great asset to be used in parks and large areas where their massive beauty can be appreciated.
A portion of sales of Buck's Unlimited Oak by Forest Keeling will be returned to the Center for Agroforestry for more research and ongoing studies
This entry was posted in New Varieties, Plant Varieties and tagged Buck's Unlimited, Native, New Plant, New Plants, Oaks on November 18, 2014, by Ken Wilson. Edit
A portion of sales of Buck's Unlimited Oak by Forest Keeling will be returned to the Center for Agroforestry for more research and ongoing studies